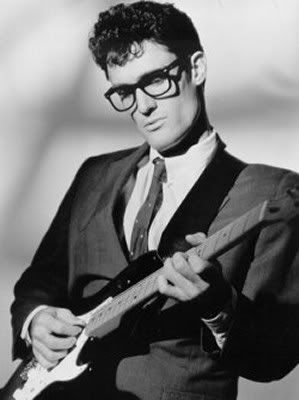 "We like this kind of music. Jazz is strictly for stay-at-homes."
--Buddy Holly
Buddy Holly would have celebrated his 75th birthday this September if he had not died in a plane crash in 1959 at the age of 22. That plane crash, as you might know, also took the lives of Ritchie Valens and the Big Bopper.
Holly was only a relatively new star. In the Fall of '57, his single with the Crickets, "That'll Be the Day," had gone Number One. Two years was enough time to record a prolific amount of tunes that many consider set the stage for the British Invasion. The melodic joy and fierce independent streak at the core of his artistry is profoundly felt on
Rave On Buddy Holly
, a 19-song collection of Holly covers that was released on June 28th, 2011.
Known for his work with such directors as Martin Scorsese, Wes Anderson and Todd Haynes, esteemed film-music supervisor Randall Poster was sought out to produce and oversee the project. "As the tracks from various contributors were gathered for the album," explains Poster "we seemed to be gathering pieces of a complex and original puzzle … that traces back to the roots of rock and roll and shapes so much of the music that followed."
The album is a who's who of awesome bands and artists you should know about; The Black Keys, Modest Mouse, Cee Lo Green, and Fiona Apple to name a few. The compilation is filled with both "by the book" remakes and completely re-imagined cuts. I think this mix is a good balance to make any Buddy Holly fan happy.
Paul McCartney
One of my favorite covers off the album is by one of my favorite musicians/songwriters ever. He also happens to own the publishing rights to all of Holly's work. Paul ­McCartney rocks "It's So Easy" like a sex-crazed maniac on a bender.
Click to play
Paul McCartney - It's So Easy (Buddy Holly cover)
There are a few disappointments, as usually is the case on projects similar to this. Julian Casablancas of the band The Strokes seems to phone his cut in. The biggest flop is the cover of "That'll Be the Day" from indie favorite Modest Mouse. When I found the album in the record store, and saw that Modest Mouse was on the project, I pretty much made up my mind I was buying the album. That's why my disappointment was magnified after hearing their take on this timeless Buddy Holly track. Luckily, the rest of the album is so good, that I can still recommend it to you with out feeling dirty. With 19 tracks, there is bound to be tracks on here you will love, like, and hate. The price makes it easy to swallow any of the chewy bits...